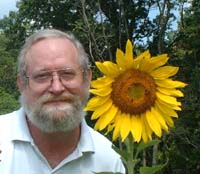 It is with great sadness that we announce that, after 35 years as a Philosophy professor at Rutgers-Camden, Dr. Charlie Jarrett will be retiring in June.
As many of you are aware, Dr. Jarrett is one of the most beloved teachers on campus, having inspired and challenged generations of students to think rigorously, clearly, and actively. He has taught a wide range of introductory courses and advanced courses such as Metaphysics, Logic, Philosophy of Mind, and Philosophy of Law, and worked with large numbers of students on independent studies, advised the Philosophy Society, and much else.
What fewer of you might know is that Dr. Jarrett is an internationally renowned scholar of Spinoza, having published the book Spinoza: A Guide for the Perplexed and many articles and chapters on Spinoza and related subjects, and having lectured around the country and the world. He is currently working on a new book on Spinoza and looking forward to having more time to complete it. He has also served Rutgers-Camden in many capacities, including as President of the Faculty Senate, Chair of our department, Adviser for the Philosophy Society, and on many campus-wide committees.
Please join us in bidding Dr. Jarrett all the best for life after Rutgers.