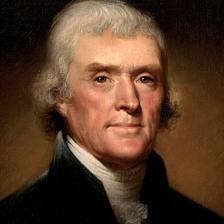 The March of Morality:
Making Sense of Jefferson's Moral Sense
M. Andrew Holowchak
Thursday April 4, 12:20-1:20, in the 429 Cooper Street building first floor Seminar Room.
Free pizza and soda! 
Much has been made of his debt to Scottish philosophers, ancient ethicians, and even Jesus concerning his moral-sense ethics in Jefferson's writings. Such "wild" eclecticism, it is generally assumed, does not allow for a consistent take of his ethical views over time. That view, I argue, is unsustainable. Jefferson's view of the moral sense, I aim to show, develops and matures over time, without substantial change, through a fuller appreciation of virtue as self-fulfillment, of Christian beneficence, and of Stoical psychical equilibrium within a moral-sense lens.